I have two cellular data services that allow me to "tether" to them to provide Internet to my Mac.  No, I'm not mad. One is provided by my work for work purposes only, the other is personal.  The problem I had for a while was not knowing how to configure OS X to have both modems defined and usable. I would delete the settings for the old one and recreate the new one.  
But there is a way to do this using multiple bluetooth serial ports. This guide will show you how.
The phones in question and the connections are:
Motorola V3M using Verizon's Broadband Connect Service via USB cable
Motorola V3M using Verizon's Broadband Connect Service via Bluetooth
Nokia N95 using T-Mobile's Total Internet service via Bluetooth
Using a USB cable is easiest to configure and at least allows the phone to not lose battery while being used (using Bluetooth drains the phone's battery fast).   However it is a hassle at times when you just need a quick connection. It's nice keeping it in the pocket for those purposes.
While this guide is specific to these model phones and services, the ideas presented should work for similar situations with some minor modifications. 
Motorola V3M using Verizon via USB cable
Plug USB cable into your Mac. It should auto-detect it and offer to configure it. Open System Settings and go into the Network applet and the below dialog box should appear. (Note: All pics can be clicked to be resized larger if difficult to read).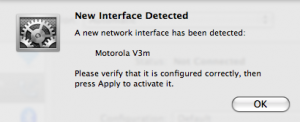 You should see it defined in the network window as show below. 
If for some reason it does not appear, try to add it manually by clicking the + button at the bottom left of the network window.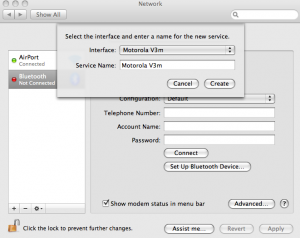 Fill out the information as shown below substituting your own phone number where appropriate.  The password is vzw. This is only going to work if you have the Broadband Connect service added to your phone account. If not, it most likely will not work. (There are some hacks using older phones like e815 with old firmware to get around this. Try Google for how if interested).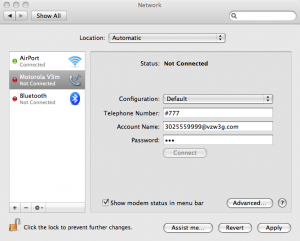 Click the Advanced… button and configure the first tab (Modem) as below.  (Vendor: Other and Model Support: Verizon)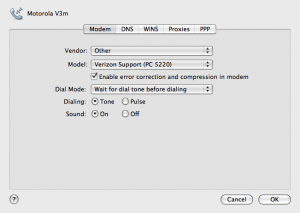 The last setting is what a lot of people don't do, and leads to frequent disconnects. Click the PPP tab, then select Configuration menu entry next to Settings.  Ensure that PPP echo packets are OFF.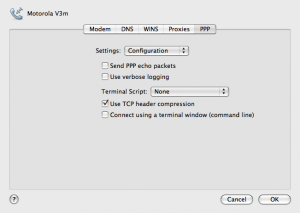 Click OK and that takes you back to original Network window. Be sure to hit Apply.  IF not, the settings you just did won't be save. I also like to check "Show modem status in menu bar" but that is optional.  If you do this you can easily connect using the icon in the menu bar.
That should do it. You should now be able to connect to the Internet anywhere Verizon has wireless broadband service.  Note that sometimes when my laptop is put to sleep, when it comes out of that mode, I can't connect again until I unplug the phone's USB cable and reconnect.
Motorola V3M using Verizon via Bluetooth
First step is to pair the phone to the Mac. With Motorola phones on Verizon, you have to first make your phone briefly discoverable.  To do this, on the phone press the Menu key, go over to "Settings and Tools", choose 8 for Connections, then 2 for Bluetooth.  Choose the Setup menu entry.  I recommend changing the Name to something more descriptive so you can find it when searching for the device easily.  Make sure the Power setting is On and then select Find Me.  You'll have 60 seconds after that to pair it. If you run out of time, simply repeat the above steps.
On the Mac, go to System Preferences in the Apple menu, then run the Bluetooth applet. Click the Set Up New Device button.  This will bring up the Bluetooth Setup Assistant. Click Continue, then select Mobile Phone from the choices.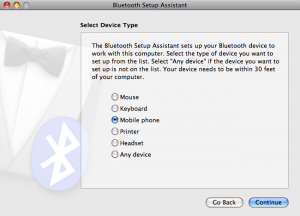 A scan will occur for nearby mobile phones. Select the appropriate device. (It may take a minute or so to convert the MAC address (a bunch of hex numbers) to a device name.  If you're in an area with other people's phones you may see them listed as well. This is why it's a good idea to rename your device, as mentioned above.  In the below example both of my phones are in range and viewable. Select the Verizon one (v3m in this example)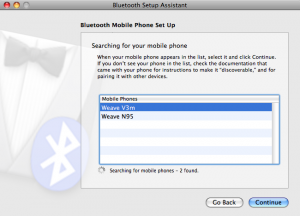 Click Continue button and you'll be prompted by the phone to enter a pairing code if you agree to bond with the computer. The code will be displayed on the Mac, like the example below (the code you get will almost certainly be different)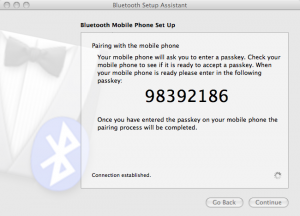 The next dialog box asks you what you want to do with the phone (assuming the pairing is successful, if not repeat above steps).  Ensure the "Access the Internet with your phone's data connection" is checked. 
Ah success, hopefully. But to be safe, go back into network settings and look for the entry for Bluetooth modem.  Go into advanced and confirm that PPP echo packets are off (it should be, now the default for bluetooth connections).  The settings should match what was specified for the USB connection.
At this point you should be able to dial into the net without a USB cable. Just be aware that this chews up battery power on your phone quickly (the v3m also gets quite warm too!)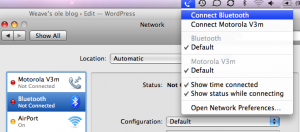 Well if that's all you care about (one modem configuration) then all is well. But in my case I wanted to define a second phone and that's where I tripped up, as we'll see in the next section — and how to get around it.
Nokia N95 using T-Mobile's Internet service via Bluetooth
This should work the same on most modern Symbian based Nokia phones.  The first step before we setup the bluetooth connection is to ensure the phone is configured correctly to use T-Mobile's (US) service.  You also need to buy a data package from T-mobile. My plan is a 5-year old $20/month for VPN (no ports blocked and a public IP, albeit a dynamic one) and 100 MMS messages included.  It uses an APN of internet3.voicestream.com.  You may have to use internet2.voicestream.com instead. 
To use the phone to tether to the laptop, you have to also set it up for that in addition to just configuring it to access the net from the phone.  
From the phone's menu, choose Tools, then Settings, the scroll down and select Connection. From that menu choose "Packet Data."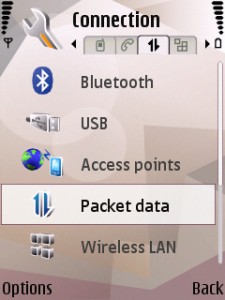 Enter the appropriate Access Point DNS name as show below. Just highlight it and select OK on the phone to enter it.   (Trivia, it's voicestream.com because T-Mobile was once called VoiceStream)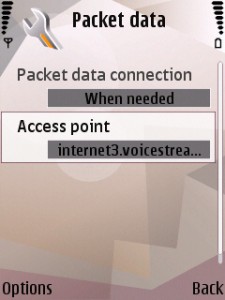 Now back out of these screens and go back to the Tools screen, and choose Bluetooth. Make sure this phone has a descriptive name, turn on Bluetooth and make sure the phone is visible.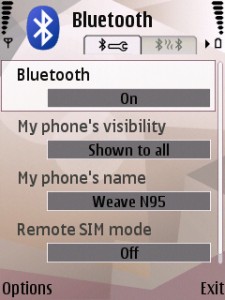 NOW we should be able to pair and configure the phone, as was done with the Motorola example above. To save me time, I won't dup most of the screens above. 
As above, open the Bluetooth Setup Assistant and pair the phone to the computer and tell it to use the phone as a modem. Fill in the next screen as shown, using id/password of tmobile/tmobile. Now, doing this is going to overwrite some of your settings for your first bluetooth modem. A real hassle. But don't fret.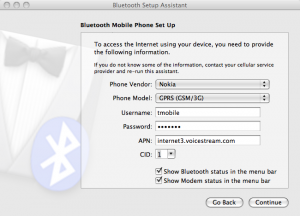 Now if you go back to network settings you'll see the former bluetooth modem settings are wiped and replaced. Set the phone number to *99#, veryify PPP echo packets are turned off as above, and then click apply.  You should be able to make a call through this phone now using the Connect  button. If the phone prompts for connection, you can get rid of that prompt by going into bluetooth settings on the phone and setting the computer as an authorized device.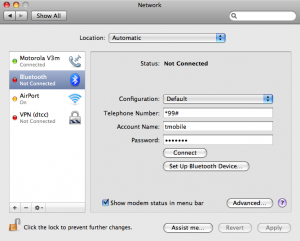 How to have two Bluetooth modems configured
So, now that we wiped out the first settings, what now? Well this was where I was stuck for years and Google didn't help, hence why I'm writing this post — hoping someone Googling for same info will find it and it will be of use.
The answer is to define two Bluetooth serial ports, one for each paired device. This can of course be extended to more than two if needed.
Open the Bluetooth preferences and select the first modem to configure (in this example, my v3m). Click the action wheel and choose "Show More Info"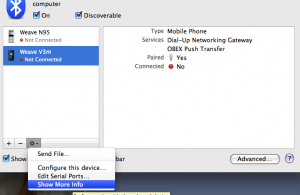 Note if Edit Serial Ports already shows as above, you don't need to do show more info.  Either way, choose to Edit Serial Ports and you should see a dialog box similar to below. Just ensure the "Show in Network Preferences" box is checked, then click Apply.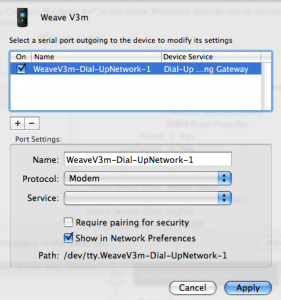 Go back to Network Preferences and it should prompt you that a new device was added. Select the device, and rename it to something more descriptive, like "V3M Dun" for example. Now configure it using the same settings as the original bluetooth setup above.
After done, do the same steps for your second phone. For my Nokia, the steps were a wee bit different so I suspect it may differ for other phones as well.
First, the Bluetooth settings for the N95 would not allow me to edit the serial ports. I had to choose "Show More Info" as above, then have it "Update Device Services."
Next, the configuration screen was slightly different, as shown below. I had to select the Dial-UpNetworking line and then check to have that added to the Network Preferences.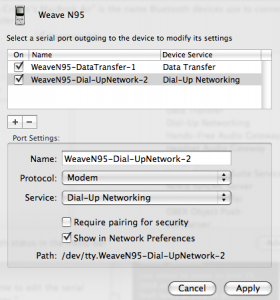 As before, go into Network Preferences. It should prompt to add the device. Rename it, then configure it as was done above.
Final optional step is to delete the original Bluetooth Modem config since you'll be using the bluetooth serial ports into each phone.  When done your Network Prefs and modem dialer menu should look similar to below.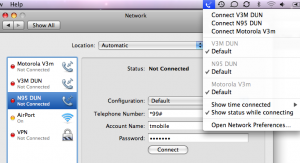 Postscript
Some steps here can probably be eliminated, like each separate configuration of the bluetooth modem before defining the bluetooth DUN serial ports.  
If anyone reading this has anything to add, suggestions, or corrections, please leave a comment. Most likely your comment will get stuck in a moderation queue. My blog is a bit boring and I get maybe two legit comments a year on it (along with 20,000 spam comments that thankfully get handled OK)