My wife's been into Second Life quite a lot lately. In fact, her avatar now has it's own website: www.ellcee-tabak.com.   She sews a lot of neat clothes and costumes in real life, and amazingly was able to transfer that skill into the virtual world, and has opened up a store to sell her own creations on Muse Isle at:  Village at Muse Isle NW, Muse Isle NorthWest 117,27,23 [PG]
This is in addition to all the stuff she's doing in the educational realm, like integrating Second Life into her Architecture and Design class this semester.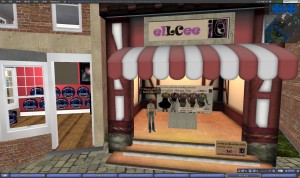 Right now ole EllCee is fast asleep since she was up all night last night working to get it done.
If you are "inworld" be sure to stop by her place for a visit!