At home I run a Windows 2003 R2 Server configured for Active Directory and file service for my couple of computers in the house. Way overkill but I originally did it for the learning experience and now maintain it so I don't lose touch. Since I'm in management now, I don't do much "real work" and always worry about forgetting how all this works.
The server was set up with a single JBOD boot/OS disk and two data drives, software-mirrored.  It also supports volume shadow copies, which comes in handy at times.
Well last night it crashed.  Turns out the boot/OS disk failed. Now I was lazy and didn't maintain backups of the OS drive nor Active Directory so this would require recreating accounts, changing ACLs, and rejoining computers to the domain once it was reinstalled. Not that big of a hassle in a small setup.
My big worry was the integrity and safety of the data on the mirrored pair. I googled around a bit and found some steps for rebuilding a broken mirror but nothing about safely restoring both disks in a mirror into what is essentially a new server installation.
Well thankfully it was pretty easy. I'm documenting this in case I ever have to do this again and forget and in case anyone else is googling and wants to see exactly how it's done before setting out to do it. 
I had considered just installing one disk of the mirror, adding it singularly and then if something went wrong, I'd have the other side of the mirror to fall back on, but in the end I took the lazy way out and just slapped them both in. Still didn't mean I wasn't nervous. I did have a backup but it was several weeks old.
So I installed 2003 server on the new hard drive and ran Computer Management (after all the hotfixes) and saw the following:
The next step was to "Import Foreign Disks…" The ellipse was comforting because that usually means some sort of additional steps will be required before continuing.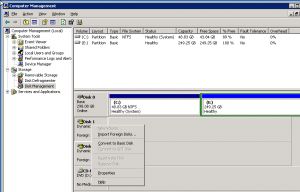 After doing that, I get the following dialog box, which made me smile because it at least recognizes this as a two disk set…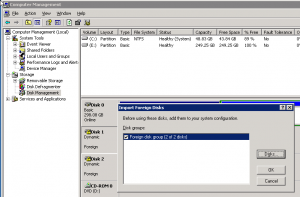 Clicking OK on that brings up one more dialog box, which finally says it's a mirrored volume.  Sigh of relief, looks like this might actually work non-destructively!
After clicking OK, I got an hour glass that seemed to stay there forever, and then finally I the disks were mounted and resyncing of them began!  WOOHOO!

Piece of cake! Now, to be safe, I'm just waiting for the resync to complete before promoting the server to a domain controller and finishing up the configuration.