This post is to document frustrations I had removing a monthly charge from M-cube to my wife's cell phone for $9.99 a month from the SMS short code of 44999. 
Now most sane people would just contact their cell phone provider and complain right away, but I'd figure I'd just do it the way you are supposed to do it, type STOP and be done with it.   OK, big mistake.
So five months later and five charges for 9.99 I think I finally got it resolved, but won't know for sure until my next bill.
It all began with my bill in November…
November
 
Hmm, what is this whilst reviewing my bill in November…

Sigh. OK, I ask my wife, and she said she took some online IQ test but didn't know it would result in a charge.  So I ask to see her iPhone and see the following from the logs.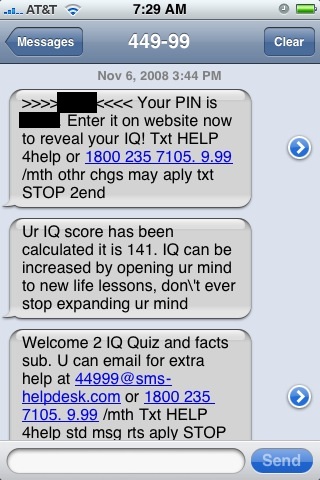 OK, so I resist the urge to make a personal commentary regarding her IQ, and shudder at the sight of the 9.99 /mth charge. So to take one IQ test will cost you $9.99 a month for the rest of your life?  Ouch. 
So I do what is instructed and reply STOP.  No confirmation received. Sigh. So I send HELP and get a help screen back that says I am not subscribed to any services. OK, that's a good sign, then I get paranoid by sending HELP I might have been resubscribed, so I send STOP again. No confirmation.   OK, I figure it worked, forget about it.

December
 
Well my December bill arrives, and gee whiz, guess what, there's another 9.99 charge on it.

OK, time to resort to Google on m-Qube.  I find a page of theirs that talks about how to unsubcribe.
On the page it says:
How do I stop the messages and billing? 
From your phone simply send the word STOP or END or QUIT as a reply to any of the messages being sent to you or CLICK HERE and simply enter the phone number being billed and your email address so we can let you know what is happening. We'll make sure the messages stop within 2 to 3 business days.
 
OK, well I already tried sending STOP so I went to their removal form and followed the instructions.  A few days later I got this:
From: customer_care@verisign.com
Subject: VeriSign Investigation Results
Date: December 23, 2008 10:13:15 AM EST
To: <redacted>
Reply-To: customer_care@verisign.com

Dear Customer, 

** This email is in response to your request to be removed from a 
service. It is auto-generated by our systems. **

Charges on your wireless bill for number (302) <redacted> under m-Qube 
are billed on behalf of our client Cellular Dreams USA Pty Ltd, for 
services subscribed to via the Internet or your wireless handset.  We 
have forwarded a request on your behalf asking Cellular Dreams USA 
Pty Ltd to remove your wireless number from all services.

If you ever need cancel a subscription in the future, you may do so 
by sending a text message with the word STOP to the 5 digit Shortcode 
in the message or reply STOP to unwanted received messages. If you 
have any further inquiries regarding this matter you must contact 
Cellular Dreams USA Pty Ltd directly at 1-800 235-7105, via email at 
44999@sms-helpdesk.com.

*Please be sure to include your mobile number in the body of all 
future email correspondence with Cellular Dreams USA Pty Ltd.*

Thank you,
m-Qube Customer Care
Nice, I should be good to go. But of course, had my doubts.
January
 
Well, guess what?

I got nailed again. And what's this? It now says it's for Horoscope Alerts. I carefully go over the bill and saw no text messages to 44999 nor in my wife's SMS logs on her phone.  Those bastards. 
So I follow the next step in complaint resolution as was told by the email, and I email 44999@sms-helpdesk.com and carefully lay out my history, including the screenshots I took above, and asked to be removed and asked for a refund of all the charges after the first $9.99 charge, which I was not disputing of course.
I get the following auto-response right away:
Thank you for your recent email to Mobile Content Customer Care. Our staff will assist you within 48 hours. You can also contact us directly on the following free call numbers or email addresses:
USA:
Email: escalationsus@sms-helpdesk.com
Phone: 1 800 416 6129
Fax: 1 310 496 2873
If you have provided your cell phone number in your original email our customer care team will quickly process your request. If not, please reply to this email with your cell phone number.  
You may also cancel this service at anytime by replying with the word STOP to any text message you have received. This is a standard policy for all numbers offering mobile phone content. 
Please see the explanation of services below as it may answer some of your questions.
In order to receive text messages, content or charges to your mobile phone bill one of the following must have occurred;
o 1. Visit a website offering mobile content. 
o 2. Enter your mobile phone number online
o 3. Receive a pin and enter that pin online;
o 4. Or, send a text message to a premium number you have seen on TV or in a magazine. 
Please remember, if you have requested to be contacted, you will be hearing from one of our representatives within 48 hours.  
Sincerely,
Mobile Content Customer Care
So I wait, and wait, over a week later, nothing. So, following directions like a good person, I then forward my original email to their escalation email and got the same auto-reply. Over a week passes and still no response.
Just to be sure, I try sending STOP to 44999 yet again since now they seem to think I'm subscribed to Horoscopes. And I actually get a reply this time, that says I'm not subscribed to any services. Maybe this mess is over?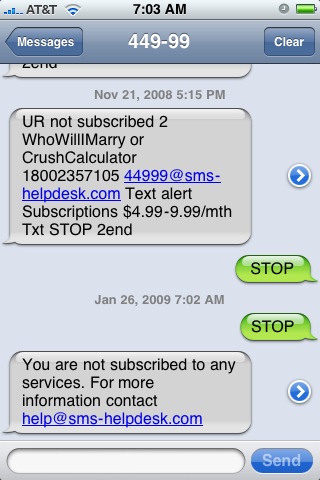 February
 
Well golly gee, February gets here, and wouldn't you know it…

OK, I've had it now. I did what I should have done in the first place. I called AT&T on 611 and talked to a delightful customer service rep named Melissa who assured me she could stop the charges and told me she gets a few complaints like this a day. 
After locating the info she said she could stop the charges. I then asked her if there was any way I could get any of the charges reversed. I told her that I've been trying for months and have been charged five times, the first of which I'm not disputing. I also made a crack about my wife's IQ, to which she let out a little chortle. I told her it's not so much the money for me, but I want this bastard company to incur a chargeback for all the hassle. 
She poked around and said the most she could credit me was for two months. I expressed my extreme happiness with her and when she asked if there was anything else she could help me with, I just asked her if it would be inappropriate to tell her I loved her.
I went online to my att.com wireless account and saw a $19.98 credit on my account. Melissa delivered!
So hopefully this mess is over — but won't know for sure until next month. 
Lessons Learned and Advice
 
Verisign (owners of m-Cube) are scum. They act all innocent claiming they are just an intermediary billing agent. They need to smack the crap out of their clients and make them honor STOP requests
I got nailed for $49.95 for five months of charges, less the $19.98 charge-back AT&T gave me. So the way I figure it, Verisign or Mobile Messenger still owes me $19.98 (I'm not disputing the first charge, even though it's still a rip-off). I can't believe I have seven domains through Verisign too. 🙁
Short codes are often evil. Read the fine print (well, I do, advice to others). 
I should have called AT&T the first moment I saw the first  charge.
Don't click through to those IQ tests you see on Facebook. 
Update: March 6, 2009
Well oh well, I finally got an email reply from mobilemessenger.com, a day or so shy of a month from when I sent the escalation email.  They promised that they have unsubscribed the number and then included a nice little canned response explaining how to send STOP.    Gotta love them…
I should get my next bill in about a week. Should be interesting to see if I get charged again anyway.
Update: 19 March 2009
Got my AT&T bill today and no charges from M-cube, plus my credit appeared!  W00T 🙂