In this morning's News-Journal  paper I see an advertisement for Blue Cross Blue Shield of Delaware's website where it lists all the wonderful things you can do on it, like order a replacement ID card. 
When reading this, I had to let out a little chortle because last Sunday my wife and I were looking all over for her ID card and couldn't find it. So we decided to go onto the BCBSDE.com website to get a replacement card ordered. 
After traversing their site, it left me shaking my head in disbelief. Do people who design websites ever try to use them?
Below I'll show you the steps to go through to get a new ID card so you too can witness the stupidity. Just three steps will leave you too going "Huh?"
Step 1, go to the website and click the Customer Service menu and select "Order a new ID card"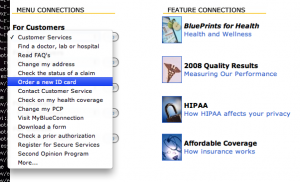 Step 2, you are asked to log on. Well, since I'm sure most people don't already have an account with BCBSDE website, you have to create an account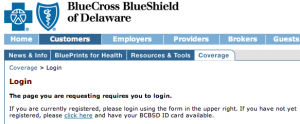 Step 3…. WHAT?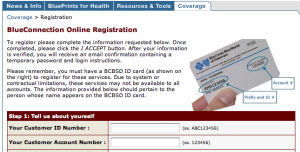 Yup, that's right. Before you can order a replacement ID card, you have to find your ID card to fill in the information from it to create an account so you can request to replace your missing ID card.