Apple's Time Capsule is a neat device that provides both wireless access, router functions, and a hard drive for doing automated backups from one or more Macs in the same network.
It's very easy to use and "just works." If it runs short on disk space it starts to automatically trim the oldest backups automatically. No intervention needed.
But ease of use often means functionality can suffer, and in one area that this is true with Time Capsule and Time Machine is when it comes time to add another machine to it and there's not enough space on it to do the first backup.
Which is what happened to me. I purchased a new Mac and wanted to add it to my Time Capsule without reformatting it and removing all my old backups from the two other computers on it.   Pruning it manually is a bit of a bear.  Hence this blog post.
First step is how to manually prune selected backups. To do this, run Time Machine and in the Finder window should be a disk mounted named "Backup of" followed by your computer name. Go to that, open the Backupdb.backup folder, then the folder for your computer. Inside should be a folder for each backup by date, similar to the pic below. Click the cog wheel and select "Remove all backups of" and the generations you want to remove. If you want to remove all backups, do it at the folder above it named after your computer.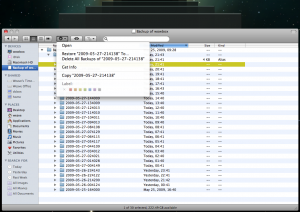 You should be promoted to confirm your password (since this is an obviously dangerous thing to do).
Now this is where it tripped me up. There was no visual confirmation anything was happening. I continued with doing it to a few more. Still no confirmation. I quit Time Machine and then saw a deleting window — which stayed there for hours and hours.
But eventually it finished. Yay!
But guess what, the disk showed no additional free space.  Arrggh….
The answer turns out you need to compress the "sparse bundle" to free up the space. This is where it gets hairy.  To do this requires a command typed into the terminal window.
To help you get the right filename, first do the following. Go into a Finder window (while NOT in Time Machine) and find the disk for your Time Capsule. Mount it, and dive into the folder where it has a large file for each machine you back up ending with .sparsebundle in the filename.
The trick is to enter this filename into the terminal window as an argument to the hdiutil command.  The best way to do this is to first copy the file name into the clipboard as shown below.  DO NOT SELECT COMPRESS IN THE COG MENU. That is not the same thing as what we are trying to do.

Now go into the Applications folder, find the Utilities folder, then the Terminal application. Run it.  At the prompt carefully type in (but don't hit return yet):
sudo hdiutil compact
Have at least one space after the word compact, then press CMD-V to paste in the sparsebundle filename. This is what mine looked like:
sudo hdiutil compact /Volumes/Weave's Time Capsule/wowbox_002500a0ece0.sparsebundle
Now press the RETURN key.
You will be prompted for your password. Enter it and it should compact the file and free up the space on your backup disk.
Wow, that was NOT easy, was it? 🙁
Dec 2012 UPDATE: Mountain Lion has a possibly better way of doing this, if the command line doesn't scare you.  Refer to the best answer in this post about this issue for details.