I like Mobile Me from Apple. I use many of its features, like syncing between my iPhone and lots of Macs and PCs, the iDisk storage, publishing of web pages, etc.  I've had it for years, and each year it auto-renews for $99.00.   Over those years I've purchased two different Macs. Each time there's a special where you can get a year of Mobile Me for $69.  I always decline because I have it already.   I-D-I-O-T!
Tonight I was purchasing a new iPhone 3GS and the Apple rep asked me if I wanted to add Mobile Me to it for just $69.  I said "I already have it."  She mumbled something, and I repeated it. Finally she said "You can extend your current subscription for another year for $69."
BAM!
Yeah, I'll take that.  I'm going to spend it anyway, so why not.
So I got the box for $69.  Inside the box is an activation code.  I just went to the Mobile Me Activation Page and entered the code while choosing to renew. Even though my current subscription was good through 2010, it allowed me to extend it to 2011.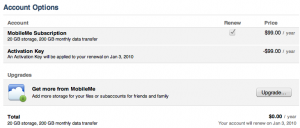 So anyone who already uses Mobile Me and you have an opportunity due to purchase of Apple hardware to get Mobile Me for $69 — grab it. You're going to renew it anyway, might as well save $30.