On Saturday, July 25 I hiked about 8 miles of the Northern Delaware Greenway trail from downtown Wilmington out to Cauffiel Parkway at Gov Printz Blvd.  I had hope to get to Fox Point Park but despite what the Greenway map says, doesn't look like it's doable.   This is my report and review of the trail and a few difficulties along the way.  This trail is also part of the East Coast Greenway, but unfortunately nothing on the trail is marked as such.
Below is the map of the trail I followed (click for a larger version).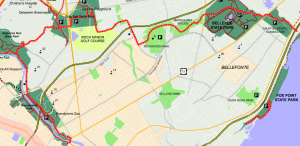 I started at downtown Wilmington and followed the red trail up through Brandywine Park, Alapocas Run park, over near Blue Bell Barn, through Rockwood and Bellevue and finally out to Governor Printz Boulevard.  Refer to my Flickr set map for locations and photos referenced in this blog post.
The hike started at Market Street bridge over the Brandywine River (above). I crossed the bridge and followed the road along the northeast side of the river, past the zoo, under the underpasses for the Washington Street, I-95, and Augustine Cutoff.
Some of the views under the bridges were incredible, as show above. This shot is from under Washington Street Bridge.
Well this didn't look good. Mind you I still had no idea that I was even on the Greenway trail. No signs exist anywhere. But comparing the location to the trail map told me this was probably it. And alas, it's a dead end.  I decided to press on regardless. What I found at the end was a bit of gravel and then a dirt path that climbed half way up a steep hill and then down the other side. At one point it went through a fence that had a hole cut out of it.
Finally at the end of this mess it appeared to become part of a legitimate maintained trail. I turned around and found the sign below prohibiting people from going further (there was no such sign on the other end).   Total length of the forbidden connector was 0.3 miles.  I read on the greenways site that the nearby condo association erected a fence across the trail and the ownership of that piece of land is under dispute.  So officially that part of the trail doesn't exist, but there is a way through it at least — for now.
The next portion of the hike took me past the Bancroft Mill and a large rock face that one could do rock climbing with.  Yeah, nice, but no thanks. (This was also the area where one of my staff just got married!)
Just beyond this place the trail hits a junction where a trail map is on a board. At this point those who want to go out towards Bellevue need to turn right and head up a steep hill.  As the point the trail crosses over Alapocas Drive, there's a schematic map.  It says "To Bellevue" .. I was hopeful this was true since some maps I saw indicated that part of the trail were not completed yet.
Beyond this point it was mainly wooded with some gorgeous pedestrian bridges over tiny creeks.  The bridges look to have cost a fortune and I found myself wishing they had spent a few dollars on some trail markers instead.
Eventually the trail came out of the woods and into the US 202 and SR 141 interchange that was recently constructed.  At the roundabout the trail continues across the road and then under the underpass (again, no trail marker or sign indicates this).  Up on the hill to the left is Blue Ball Barn. At this point I was starting to get thirsty so I walked up the hill and into the barn. A small break area with vending machines is here, plus clean toilets!. A good place to take a break and refresh.
An interesting thing about this hike I hadn't expected was the lack of services along the way. I had expected with the crossing of major roads there would be places to grab a drink here and there, but I was wrong.  So take some water with you if you do this hike.  Unfortunately I didn't have any singles or coinage with me to get some water for the road, so I ended up doing the next few hours without a drink.  Not the smartest thing to do really.
Now this was a nice place to park for a bit.  The temperature that day was 88 and sunny, but this underpass below US 202 was very cool and refreshing!
After going under this underpass and crossing the next side street, follow the ped path up the hill along that side street. Yet again, no trail marker indicating that this path continues the Greenway trail.   The trail curves around a parking area and then zig zags along a golf course, hugging the various fairways until it ends up going along a housing development and hitting what appears to be another dead end.
Once again, not a single trail marker or indication where to go.  Cross the road and go down the hill. The road has no sidewalk but at least has a hard shoulder. After passing under what is I-95 and a railroad underpass one must continue past Little Rock Road where the trail picks up. It parallels Tally Road for a bit, then hooks to the left and enters Rockwood Park. Yet again, no trail marker indicates this.
Inside Rockwood Park, at first, still no trail markers for the Greenway Trail. I followed the Ice Cream Trail for a bit, then wandered up towards a building hoping to find a map. In this area I finally found a sign that indicated where to go for the Greenway Trail.
The trail eventually crossed Shipley Road, then Carr Road, and entered Bringhurst Woods Park.  If you follow that link for Shipley Road you'll see the Google Street view of the cross walk.  Besides the pedestrian sign there's another sign that says to yield to pedestrians and white triangle signs on the road indicating a yield point. Despite that, people don't stop to let you cross there and if you click to follow the Google vehicle you'll notice that car didn't yield to that guy waiting to cross either!
After crossing Marsh Road I finally made it to Bellevue!  But a bit of the hike through Bellevue Park was out in the open with the sun beating down on me, so I started to miss the densely wooded portions behind me.
Finally I started to see signs indicating where to go to follow the Greenway Trail.  Bellevue was fairly well signed at least. Which was good because there are quite a few trails in this park and it would have been easy to get lost here.
After I got out of Bellevue the trail crossed Philadelphia Pike. I had hoped to find a store of some sort here to get another drink, but alas, there was none. Also missing were further signs telling you to go north on Philadelphia Pike a bit, cross the road, then enter the trail on the opposite side of the side street.
The trail follows along Cauffiel Parkway for a bit, then goes into the trees and turns into a dirt path. At the end of this path is the end of the trail.  A huge disappointment. I had hope it continued past I-495 to Foxpoint Park.
Worst, there was no place around here to grab a drink either.  I crossed over Gov. Printz Blvd and looked for a way to get under I-495 but there was nothing.
Well now what?!  I had left my wife behind at DCAD in Wilmington at a class she was taking, which wasn't over until 3pm.  It was now just 1:45pm so it was too early to call for a rescue, so I decided to hike up Gov Printz a bit and then over to Philadelphia Pike to find something to drink and catch a bus back to Wilminington.
I walked up Sunset Drive, which was a very steep hill.  That one really put a hurting on me!   When I finally got out to Philadelphia Pike, nothing.  I walked north for a bit until finding some frumpy Liquor Store.  Got me some water, went to the bus shelter, and waited for the next bus.
Total time hiking was four hours, not including about 20 minutes I rested at Blue Ball Barn.  I've been in this area now for 50 years and the hike took me to some incredibly beautiful places I had never seen before.  Well worth it, although I'd recommend just terminating the hike at Philadelphia Pike and getting a bus back to Wilmington, if that's where you started.  from.   The DART bus service runs about every 30 minutes past there so it's a good way to get back to your car or whatever you left at the origin.
This is a hike I highly recommend. Just a shame they don't sign it better and that there is no apparent access to Fox Run Park and the Delaware River.