This is a guide to how to get a prepaid phone that works in the United States if you plan to visit here.  Information about how to do this is hard to find because the phone companies don't want you to just use a phone for a week or so and toss it basically.   I had similar difficulties getting a prepaid phone in UK for my trips there, but I'll warn you, this is much more of a hassle.
First thing you need is an unlocked GSM phone. For people outside the U.S. this is probably something that doesn't need explaining. Most phones sold in the U.S. are locked though. As an alternative, you can just buy a cheap prepaid phone in the U.S. for about $20-$50 to get you started (which includes a SIM).   If not, you'll need a U.S. prepaid SIM to put into your phone.
The goal, of course, is to get up and running as fast as possible after landing in the U.S. so you probably don't want to go running around looking to buy a phone and if you go into a shop and want to buy a SIM you'll most likely be looked at very strangely.  eBay sellers have prepaid U.S. sims for sale. For this example, I'll use AT&T's prepaid service called "gophone" — so do an ebay search for gophone or prepaid sim. Try to find one with model/sku # 71234 — this is the latest AT&T 3G SIM as of August 2009.  I paid $3.99 for mine from snscommusa. Sounds like they will ship internationally if you contact them before payment and find out how much to add for shipping.
Once you get the SIM, you could activate it online at www.att.com/activations/ before you get to the U.S. but I suggest waiting until you arrive for quite a few reasons. However, I consider getting the SIM the biggest hassle so doing that before your trip will cut down on your agro once you arrive.
The reasons why you want to wait to activate your SIM until you get to the U.S. are:
Once activated, you'll be emailed a PIN to manage your account online. First time you logon, you'll be sent a new PIN via SMS — which you won't get if you are not in the U.S.
MMS/data settings for your phone probably will get sent to your phone and setup automatically the first time it "logs in" to the network. It worked great on my Nokia N95.  If not, you'll need to set those manually (settings for most common phones are on att.com's website. Go to support, then phone/device support.)
Topping up (refilling) the phone is a hassle if not in the U.S.  You might be able to buy a topup card over ebay.  The credit card topup/refill route, however, appears to require a U.S. credit card and address as well.
Once you get to the U.S. you'll need to get online to activate, or call 1-866-895-1099.  Then you'll need a refill/topup card.
As part of the activation process at www.att.com/activations/ you'll need to enter the SIM number from the SIM plus your phone's IMEI number (found inside the phone or you may be able to get it from typing in a code to your phone. Like on Nokia's it's *#06# )
You'll be asked for a zip code of where the phone will be in service.  This will determine what area code your phone number will be in, which basically is the small location in the U.S. where land line phones can call it for free.  U.S. cell phones can call usually can call all over the U.S. for no extra charge, so it's no big deal where the number is.  Just google around for addresses if you want a number in a certain area, or use 10001 (Midtown Manhattan, NYC).
Next up is a U.S. mailing list and email.  Of course you probably don't have a U.S. mailing address. Actually, you will for a few days. The hotel you are staying at! 🙂 But do enter in a good email address. You will be emailed a PIN to logon to att.com/mygophone where you can manage your account.   Note: When I googled for this info I saw several mentions of needing a PIN to activate your phone.  When I got my prepaid SIM it had no PIN with it and I wasn't asked for one when activating. I am assuming the PIN is only if you buy a combo GoPhone phone and SIM package.
Next is to top up the phone.  The top up situation in the U.S. pretty much sucks.  Nothing like what I've encountered in the U.K.  "Refill" cards are sold all over, like in drug stores (chemists) and other shops. But the weird thing is, they give you a card and a voucher with a PIN number in. THE VOUCHER IS WHAT IS IMPORTANT. That card, for all I can tell, is useless, although I haven't tried taking the card back into the shop and asking to have it refilled to see if it's any easier.
The refill PIN may be entered online or by dialing 611 from your phone WHILE IN THE U.S. and entering in the refill PIN on the voucher you receive.
More on the Top Up hassle
My O2 prepaid card from U.K. is a dream. I just have to make a call from it at least once every six months to keep it active.  I just make sure it has about 20 quid on it before I return back to the U.S. and to make a call before the six months is up.  That starts the clock ticking and I'm good for another six months.
Not so with any prepaid plans in the U.S.   There are multiple hassles and ways to lose your money. First is credit expiration. Depending on how much you top up with will determine when that credit will expire. You can "roll over" unused credit (with AT&T) if you top up again before the expiry date. The expiry date can be anywhere from 30 days (for a $15 top up) to 365 days (for a $100 top up).  If your credit expires, you lose it — and then 60 days after that you lose your phone number and the account is deactivated.
Next you have voice plans. Usually it's pay per minute, or pay per day. I recommend per day. For $3.00 a day you can get unlimited calls all day. You are not charge on days you don't use the phone. For a tourist, that's probably your best bet.  For casual use, the $1.00/day plus 10 cents a minute is a better deal.
For bolt ons, which are called feature packages, it's another expiry hassle.  You can by text packages or data packages. They only last 30 days but if you renew the package before then, any unused messages or data will roll over to the next month.    To add a package, dial 611 while in the U.S. and follow the voice prompts.
So the only way to keep one of these puppies alive after you leave the U.S. is to put $100 refill in the phone and then it'll only last a year. So if you're not returning to the U.S. again for at least a year, it's best just to let it go and repeat the process for your next trip. 🙁
Example of U.S. Mobile Refill Cards
This picture shows a rack of mobile refill cards. This particular one was inside a grocery store. Usual procedure is to take it up front to a cashier who will activate the card for you, and possibly hand you a voucher with a PIN on it that you will need to refill the prepaid account.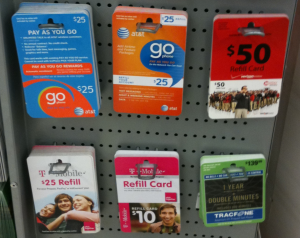 Calling Back Home
Forget it! Very pricey.  OK, that's not an option.  When I travel, I have a phone that does WiFi and has a VOIP service attached. I use gizmo5.com and their client on my Nokia N95.  Even the iPhone will dial internationally for cheap if you load an app like Fring on it and associate it with a VOIP account.  So my suggestion is, have some sort of phone with WiFi/VOIP service on it and just call home while leaching someone's WiFi signal somewhere.  If you've been looking for an excuse to buy a nice unlocked Nokia that include WiFi, now's the time if you intend to call home any. You'll save enough most likely to pay for the phone and when you get back home you'll still have a nice phone to use!